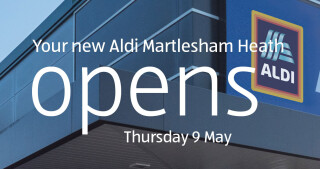 Your new Aldi Martlesham store
1 Gloster Road, Martlesham Heath, IP5 3RJ
There are lots of amazing reasons to shop at Aldi. First, you'll find outstanding offers every day on fresh meat, fish, fruit and veg. Then there's our outstanding Specially Selected range at unbelievably low prices. And on Thursdays and Sundays, our famous Specialbuys come in, which can include anything and everything, from fabulous furniture to brilliant baby products and beyond.
Opening hours
• Monday – Friday 8am – 10pm • Saturday 8am – 10pm • Sunday 10am – 4pm
Healthy savings. Free super 6 bag!
On opening day, the first 30 people will receive a free shopper bag of fresh fruit and veg from our famous Super 6 offers. How super is that!
Super 6
We believe in offering you the freshest produce at the best prices. In addition to our amazing Super 6 fruit and veg, we will also offer you 6 amazing prices and 6 amazing choices of meat and fish.
Award-winning products
From nappies and wipes, to wine, meat and cheese, you'll find award-winning products throughout the store, each judged to offer exceptional quality and value for money.
A World of Wines Online
As Multiple Wine Retailer of the Year for 2015, 2016 and 2017, we think we know a thing or two about wines. Our experts travel the world to give you the very best quality at the very best prices.