A super tasty Mediterranean Vegetable 'Pumpkin' Pie the whole family will love.
Mediterranean Vegetable 'Pumpkin' Pie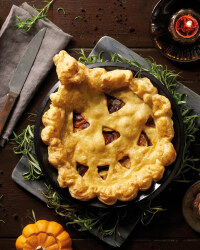 Recipe Information
Ingredients
23cm Pie Dish
1 Packet of Mediterranean Style Vegetables
½ Tin of Chickpeas, drained and rinsed
½ Tin of Chopped Tomatoes
½ tsp Crushed Chillies, optional
Pinch Salt and Pepper
1 pack Ready Rolled Puff Pastry
1 Egg, beaten
Method
1. Pre-heat the oven to 200°C/Gas mark 7.
2. Roast the tray of vegetables for 20 minutes until cooked.
3. Mix the vegetables, chopped tomatoes, chickpeas, seasoning and crushed chillies (if desired) and pour into the pie dish.
4. Unroll the ready rolled pastry on a floured surface and then roll out further until the pastry is wide enough to cover the pie dish.
5. Brush the egg around the edge of the pie dish and top with the puff pastry.
6. Trim the edges of the pastry and then crimp the edges. Cut triangles into the pastry to create the pumpkin face. Create the stalk of the pumpkin using the excess pastry.
7. Bake for 20 minutes until golden and crisp.
8. Serve hot.