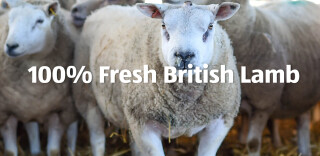 Meet the Supplier - The Blakeney Family
Mark has been supplying lambs for over 10 years, from his family farm in Wiltshire, with his wife Alice, and their 3 sons.
Mark has worked on sheep farms since he was young, always dreaming of owning his own flock of sheep. He started farming sheep when he was 15, when he owned 30 pedigree Texel ewes. Mark always wanted to commercially farm sheep and worked as a shearing contractor for other people, before building up his own flock.
Building on this success, Mark now supplies lamb for our West Country Lamb range and has a large commercial business breeding 600 mule ewes. He also breeds pedigree Texei, Suffolk and Charolais ewes to produce pedigree and hybrid rams for sale. Now his 2 eldest sons are giving him a run for his money. The budding young shepherds show the sheep at local shows and bring home lots of prizes!