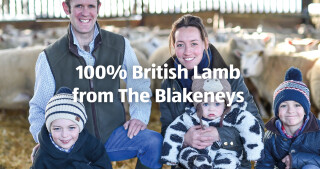 Meet our fresh lamb supplier
If you like our quality lamb ranges, then you must thank Mark Blakeney, his wife Alice and their 3 sons. It's their passion and dedication that makes the difference in our West Country Lamb selection. The family have been supplying Aldi for over 10 years from their Wiltshire farm and they're only just getting started. Learn a little more about them below.
A dream come true
Mark's childhood dream of owning his own flock came true at the age of 15. He started with 30 pedigree Texel ewes and now breeds 600 mule ewes and hybrid rams for sale. But maybe he's most proud of his two sons and their passion for the family trade.
Better together
Working with amazing suppliers like this helps us continue our goal towards a Better Everyday. Learn more about our aims here and check out everything we're doing to achieve them.
Looking for lamb recipes?
With recipes that cover everything from traditional lamb roasts to Lamb tagine and Lamb pilaf, our cookbook is bursting with mouthwatering meals made for you to enjoy. Try them this week with your family.