Stay hydrated this summer with these watermelon fish shapes. Recipe makes 2 fish shapes.
Melon Fish Shapes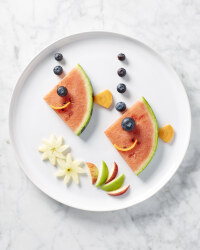 Recipe Information
Ingredients
1 large slice of Watermelon
8 Blueberries
1 Carrot
1 Green Apple
1 Red Apple
Method
Cut the slice of watermelon into triangles, leaving the skin intact.
Arrange 2 of the triangles onto a plate, both facing in the same direction.
Cut 2 triangles out of a slice of carrot.
Tuck a carrot triangle under the back of each watermelon slice to make the tail.
Make a little smile out of another piece of carrot and add to the watermelon.
Add 1 blueberry to each watermelon triangle to form an eye.
Use the remaining blueberries to make a trail of bubbles above each melon fish.
Then, it's time to decorate the plate!
Cut 4 or 5 slivers of green apple and arrange at the bottom of the plate like seaweed.
Lastly, cut out 2 red apple starfish and place next to the seaweed.