Tangy apples topped with luxurious meringue.
Meringue Apples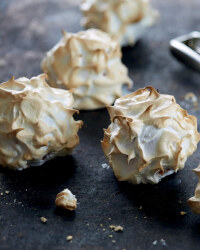 Recipe Information
Ingredients
6 Funsize Apples
500ml Del Rivo Apple Juice
50g The Pantry Sultanas
½ tsp Stonemill Cinnamon
50ml Del Rivo Orange Juice
2 Medium Egg Whites
100g Caster Sugar
Gianni's Vanilla Ice Cream – to serve
Find your ingredients online on Click & Collect or find your nearest store using our Store Finder.
Method
Preheat the oven to 200°C/400°F/Gas Mark 6.
Put the apples in a medium/small saucepan with the apple juice and the cinnamon.
Bring to the boil, cover and simmer for 5 minutes then drain the apples.
Core the apples and allow them to cool.
Put the sultanas and orange juice in a small bowl.
Microwave on full for 2 minutes, cool slightly and stuff the apples with the sultanas.
Whisk the egg whites in a clean bowl until they start to peak.
Add the caster sugar, a dessert spoon at a time until all is used and the meringue is white and glossy.
Put the apples on a baking tray and spread the meringue all over the apples.
Bake for 5/6 minutes until browned.
Serve with vanilla ice cream.