This luxurious ice cream dish is a gloriously sweet dessert option. Perfect for parties.
Millionaire's Shortbread Sundae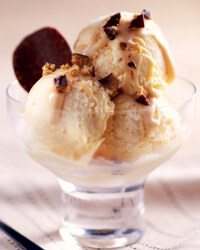 Recipe Information
Ingredients
6 Scoops Caramel Ice Cream
Belgian Chocolate Waves
2 Chocolate Digestives
Fudge Sauce
250g Caster Sugar
150ml Double Cream
50g Butter
Method
To make the fudge sauce
Put the sugar in a pan over a medium heat, stir in 2 tablespoons of water until the sugar has dissolved.
Turn up the heat and let it bubble for around five minutes.
Take off the heat and stir in the butter and cream.
Leave to cool before serving.
Scoop the ice cream into bowls and drizzle over the sauce.
Top with crunched up chocolate digestives and finish with a chocolate wave.