Savoury mini muffins made with houmous, spring onions, cheese and black olives.
Mini Houmous Muffins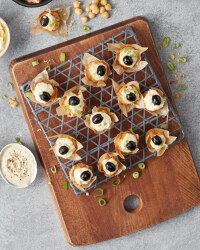 Recipe Information
Ingredients
200g Classic Houmous
80ml Milk
3 x medium Eggs
160g Self Raising Flour
1 flat tsp Baking Powder
60g Cheddar Cheese, grated
2 x Spring Onions
1 flat tsp Paprika
Black Pepper
24-30 pitted Black Olives
You will also need:
1 x 24/30-hole mini muffin tin
Paper cases to fit
Method
Pre-heat the oven to 170°C/Gas Mark 3.
Beat the eggs and milk together in a bowl, add 120g houmous and mix well.
In another bowl, add the flour, baking powder and paprika.
Wipe and trim the spring onions and chop finely – keep a few back for decoration, then add the rest to the flour mix, along with the cheese.
Mix the houmous mixture in with the flour, season with black pepper and mix well.
Spoon the mixture into the cases, filling almost to the top.
Bake in the oven for 20-25 minutes until risen and firm to the touch.
Allow to cool, then decorate with the remaining houmous, black olives and chopped spring onions.