These wonderfully healthy quiches are as tasty as they are colourful.
Mini Pea, Mint & Goat's Cheese Quiches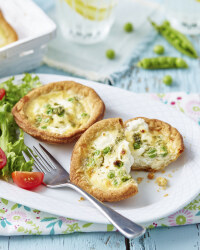 Recipe Information
Ingredients
375g pack Greenvale Ready Rolled Shortcrust Pastry
1 Egg
70ml Milk
70g The Cheese Emporium Soft Goats' Cheese
4 medium-sized Mint Leaves, chopped
20g Frozen Peas
Method
Pre-heat the oven to 180˚C/350˚F/Gas Mark 4.
Place the pasty onto a floured surface and roll it out a bit more until it is about 2mm thick.
Using a 7-8cm fluted edge cutter cut out 12 circles and place into a 12-hole bun tin.
Cut a piece of greaseproof paper slightly bigger than the bun tin, scrunch it up and cut into 12 squares.
Place a square over each pastry and fill with baking beans (or dried lentils). This is a bit fiddly but it is worth it to have crisp pastry bases!
Cook in the oven for 10 minutes, then remove the baking beans and greaseproof paper and place back in the oven for a further 5 minutes, until the pastry is cooked.
As the pastry cases cool, beat the egg yolk, milk and chopped mint leaves together.
When the pastry has cooled, cut the goats' cheese into 1cm cubes and distribute evenly, along with the frozen peas, between the pastry cases.
Place in the oven before pouring the egg mixture into each pastry case to avoid spilling. Be careful not to over fill or it will make it difficult to remove from the bun tin.
Bake for 15 minutes until the quiche fillings have set.
Serve either straight away or chilled.