Easy to prepare but impressive to serve, these mini vegetable tarts are made with slices of bread and a selection of vegetables.
Mini Vegetable Tarts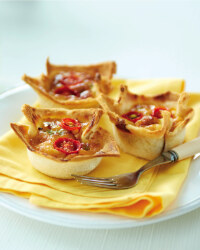 Recipe Information
Ingredients
1 Red Pepper
1 Yellow Pepper
1 Green Pepper
2 Sticks Celery
60ml Extra Virgin Olive Oil
12 Slices Village Bakery White Medium Sliced Bread
125ml Cowbelle Reduced Fat Crème Fraîche
125g British Lighter Mature Grated Cheese
12 Plum Cherry Tomatoes cut in half
3 Medium Eggs
Salt
Black Pepper
12 Hole Muffin Tin
Find your ingredients online on Click & Collect or find your nearest store using our Store Finder.
Method
Preheat the oven to 200°C/400°F/Gas Mark 6.
Chop the peppers and celery finely. In a large frying pan sauté the vegetables in half the olive oil for 5 mins, until softened.
In a bowl add the eggs, whisk well, and add the grated cheese, crème fraiche and the cooked vegetables.
Season with salt and pepper.
Cut the crusts off the bread and with a rolling pin roll out the bread slices until a little thinner and larger.
With a pastry brush, oil the muffin tray with the remaining olive oil.
Push the bread squares gently into the muffin tray.
Divide the vegetable mixture between the cases; top each one with two halves of tomato.
Bake for about 20 minutes, until crisp and golden.
Serve warm or cold.