Homemade mint sauce to sit enjoy with your family lamb dinner.
Mint Sauce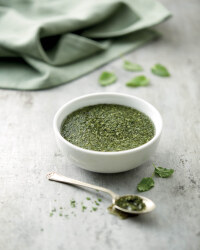 Recipe Information
Ingredients
25g Fresh Mint
50ml boiling Water
50ml White Wine Vinegar
25g Caster Sugar
Sea Salt and White Pepper
1 Spring Onion – optional
Method
Remove any thick stalks from the mint and discard – finely chop the rest.
In a bowl, pour the boiling water over the caster sugar and stir to dissolve.
Add the chopped mint and stir through.
Add the white wine vinegar and season with a little salt and pepper, mix well and serve.
To add a little more of a savoury taste, wipe and finely chop the spring onion, add to the mint sauce and stir well.