This tangy, rich and refreshing ice cream dish is a lovely option for dessert on a warm day.
Mixed Up Rocky Road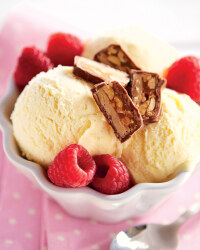 Recipe Information
Ingredients
6 Scoops Vanilla Ice Cream
Raspberries
2 Racer Bars
Method
Scoop the ice cream into two bowls and sprinkle with raspberries.
Slice up the rocky road bars and mix into the ice cream.