This tangy, rich and refreshing ice cream dish is a lovely option for dessert on a warm day.
Mixed Up Rocky Road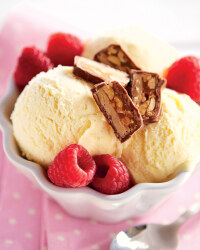 Recipe Information
Ingredients
6 Scoops Vanilla Ice Cream
Raspberries
2 Racer Bars
Find your ingredients online on Click & Collect or find your nearest store using our Store Finder.
Method
Scoop the ice cream into two bowls and sprinkle with raspberries.
Slice up the rocky road bars and mix into the ice cream.