Crepes on crepes with a mascarpone cream filling and sticky chocolate syrup glaze.
Mocha Crepe Layer Cake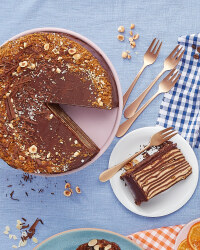 Recipe Information
Ingredients
For chocolate crepes:
300g Plain Flour
50g Cocoa Powder
3 Medium Eggs
For the filling:
500g Mascarpone
2 tsp Instant Coffee (dissolved in 50ml hot water and left to cool)
300ml Double Cream
50g Caster Sugar
120g Caramelised Biscuits (crushed to a rough crumb in a food processor)
For the glaze:
200g Dark Chocolate, broken into pieces
150g Unsalted Butter, cubed
1 tbsp Golden Syrup
Method
To make the crepes, sift the flour and cocoa into a large bowl. Add the eggs and slowly add the milk, beating thoroughly (a stand mixer or handheld electric beater makes this a lot easier). Beat until you have a smooth batter.
Put a little oil and butter into a 20cm crepe pan and when sizzling gently pour in a ladle of crepe mixture. Let it cook for a couple of minutes then flip over and cook the other side. This mixture will make 10 crepes. Lay them out as you do them on a sheet of baking paper to cool.
For the filling; put the mascarpone, sugar and cream into a large bowl (a stand mixer would be great) and gradually whisk them together. Add a little of the coffee mixture and continue to beat the creamy mixture. Stop as soon as you have a nice thick but smooth mixture. Fold in the crushed biscuits.
Line a 20cm round cake tin with cling film.
Take a tablespoon of the coffee cream mix and place it onto the first crepe.
Smear it all over the crepe with a pallet knife and place onto the base of the cake tin – cream side up. Repeat this process until all of the crepes and cream are used up.
Bring any overhanging cling film over the cake and refrigerate for a good 45 minutes.
To make the glaze; put the chocolate, butter and golden syrup into a heavy based, non-stick pan and melt very gently together until you have a smooth, glossy liquid.
Set this aside or pop in the fridge for 10-15 minutes to cool it down.
To assemble; have a wire cooling rack ready with a sheet of baking paper on it. Carefully turn the cake upside down onto it and release the springform. Peel away the cling film. Run a palette knife around the side of the cake to make sure it is even.
Now pour the glaze over the cake – about two ladles full and let it run down the sides.
Refrigerate at this point for 10-15 minutes then repeat with the remaining glaze.
Use a palette knife dipped briefly into hot water to smooth the sides to give an even finish.
Refrigerate again for another 10-15 minutes then decorate with some crushed biscuits, chocolate shavings, buttons etc.