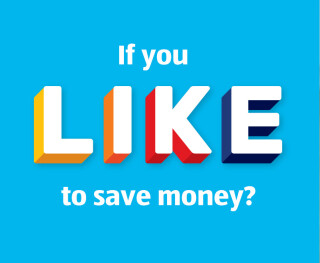 Top money-saving tips for 2021
At Aldi, we live for Everyday Amazing value. So, we've put together lots of hints, tips and inspiration to help you make your new year budget go a little further.
We offer great value on our bigger 'family packs'. So why not do a little batch cooking - freeze some for next week and have some for lunch the next day.

Always think about weekly meal prep and make a list of specific things you need. It's a great way to ensure you aren't buying more than you need.

Don't throw it away! Get creative with leftover food. Use it up for lunch the next day, freeze or remake into a new recipe.

Save a bundle by replicating your favourite takeaway dishes at home. We've got plenty of fake-away recipes to try.
Let's fake it away!
Who doesn't love treating themselves to a lovely takeaway now and again? Well, thanks to a little inspiration from our Taste Kitchen experts, you can enjoy some of your favourite treats without the guilt or the bill. Go on, fake it away!
Amazing leftover recipes
A great place to save is to use up all your leftovers for meals the next day. Why not start with our 3 top leftover recipes. Chilli Stuffed Potato Skins, Asian Beef and Cabbage Stir-fry and Roasted Sausage Bake.
Everyone can save on fresh
We believe everyone should be able to afford healthy, fresh, delicious food. That's why we have amazing offers on meats, fish, fruit and veg every 2 weeks. Check out our latest offers in store.
If you like Veganuary savings
Swap today and save on lots of nutritious and delicious plant-based foods. You'll find everything you need in our vegan basket, with enough ingredients to serve 4. You could save 35% or more.
Based on a comparison of Aldi products against products shown only. Tesco may sell other products at different prices. Lowest Tesco price pro rata, considering size and offers, used and checked on tesco.com on 14/01/21. Excludes Tesco club card offers. Aldi price and packaging correct as of 14/01/21. For more information visit aldi.co.uk/janswap Subject to availability. Product packaging may differ in each region. Products and prices may vary in Scotland, Aldi Local and for Deliveroo.
Find amazing value every day
If you've ever shopped at Aldi, you'll have noticed we sell a whole range of amazing things with incredibly small prices online and in store. These are our Specialbuys. So, if you're looking to save on DIY, need to kit out the kitchen for less or want an affordable way to keep fit, you'll find it all in our middle aisle.
Hit refresh on your kitchenware
Why not smarten up your kitchen for less today? From cookware to kitchen gadgets, you can give your kitchen an amazing makeover this season with our latest Specialbuys.
Refresh your home for January
Forget overpaying for DIY projects – just do it yourself. Our range of specialist DIY tools offer a perfect combination of performance, versatility and value so you can achieve a professional finish at low prices.