Monster Blueberry Milkshake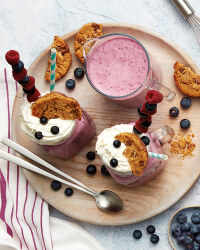 Recipe Information
Ingredients
250g Blueberries
2 Large Scoops of Vanilla Ice-cream
300ml Semi-skimmed Milk
Whipped Cream
Chocolate Chunk Cookies
Method
Place the blueberries into bowl and microwave them for 30 seconds until warm and beginning to break down – leave them for 5 minutes to cool.
Pour the milk, ice cream, and softened blueberries into a blender and blitz until smooth.
Pour into 2 glasses.
Top with the whipped cream, cookies and blueberries.
Serve immediately.