This chickpea burger is a healthy alternative bursting with goodness.
Moroccan Chickpea Burger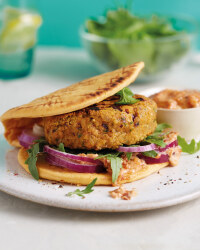 Recipe Information
Ingredients
1 x 400g tin Chickpeas, drained
1 medium Red Onion
1 x 220g sachet Bulgur Wheat,Quinoa and Wholegrain Rice
6g Fresh Coriander
1 x heaped tsp Ground Cumin
1 x heaped tsp Paprika
20g Tomato Purée
1 large Egg
1 pack 4 Folded Harissa Flatbreads
50g Sundried Tomatoes
80g Mayonnaise
Rocket Leaves and Red Onion to serve
Method
Drain the chickpeas, halve, skin and finely chop the red onion and chop the coriander.
Put the chickpeas, red onion, bulgur wheat mix, cumin, paprika, tomato purée and egg into a food processor and pulse until smooth and well blended.
Divide the mixture into 4, roll into balls and then squash into a burger shape.
Put into the fridge to settle and chill for 30 minutes.
Chop the sundried tomatoes and liquidise with the mayo to blend.
Grill, barbecue or griddle the burgers for 4 minutes each side.
Serve on a bed of rocket leaves, sliced red onion and sundried tomato mayo inside the flatbreads.