Treat your mum to a deliciously luxurious breakfast this year.
Mother's Day Breakfast with a Twist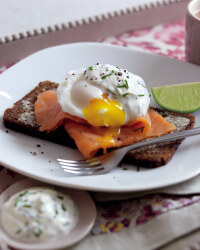 Recipe Information
Ingredients
Salt
Dash of white wine vinegar
4 slices Rye bread, lightly toasted
55g softened unsalted butter
200g smoked salmon (4 × 50g portions)
4 free range medium eggs
500g natural yogurt (4× 50g portions)
2 pots fresh chives, chopped
Coarse ground black pepper
1 fresh lime, quartered
Method
Place a small pan of water on the hob and add a little salt and 2 tsp vinegar.
Bring to the boil.
Place the lightly toasted rye bread on four warm plates, butter the bread well.
Top with the smoked salmon.
Once the water boils, break the four eggs in, gently, then bring back to the boil and turn down the heat to simmer.
Cook for 2-3 minutes maximum, or until the whites are set.
Once cooked, drain well and place onto the four smoked salmon rye breads.
Mix the yogurt with the chives and spoon evenly over the four plates.
Sprinkle with black pepper and serve with a wedge of fresh lime.