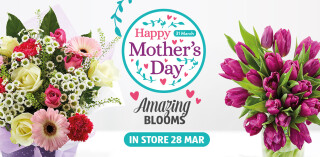 Beautiful blooms for your Amazing Mum
There's no better way to show Mum how much you love her than by treating her to one of our fabulous floral gifts. From stunning bouquets to gift boxes and baskets, as well as plants that they can enjoy all season long, we've got something to make her feel like one in a million.
Flowers for all budgets
From classic roses to scented lavender and pretty primroses, we've a whole collection of stunning flowers Mum (and Nan) will love at blooming lovely prices.
Make it for Mum
Surprise her and dine her so she can put her feet up. Our exclusive recipe collection has all sorts of meal ideas for making Mum feel extra special… from breakfast in bed to a brilliant brunch or a big family dinner that will bring everyone she loves together.