Add a touch of richness to your sea bass with leeks, mushrooms and pancetta.
Mushroom & Leek Stuffed Seabass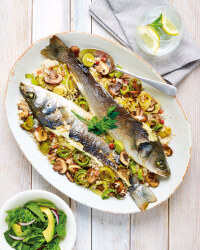 Recipe Information
Ingredients
170g Cooked Rice
2 Leeks
1 tsp Butter
90g Pancetta
100g Chesnut Mushrooms
Sea Salt
Freshly Ground Black Pepper
Parsley - as much as desired
Sage - as much as desired
Extra Virgin Olive Oil
Method
Slice open the fish and drizzle with olive oil and season with sea salt and freshly ground black pepper.
Melt the butter in a large pan on a medium heat. Chop the leeks and mushrooms, and lightly fry until tender. Add salt and pepper to taste.
Chop the Pancetta. Combine the cooked leeks and mushrooms in a large mixing bowl with the rice and the pancetta. Stir until mixed thoroughly.
Stuff the opened sea bass with the mixture keeping any remaining mixture to one side.
Lightly oil the BBQ grill rack and add the stuffed fish. Turning frequently, until cooked thoroughly. Approximate cooking time is 20 minutes.
Alternatively, wrap in foil and bake in the pre-heated oven at 220oC/Fan 200oC/Gas mark 7 for 25-30 minutes. The fish is cooked thoroughly when reached 72oC and the flesh flakes easily with fork.
Serve on top of the remaining leek and mushroom mixture.
These are guidelines only, as cooking appliances vary.
Garnish with parsley and sage as desired.