Mushroom and Parmesan Soup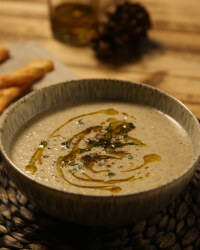 Recipe Information
Ingredients
350g Chestnut Mushrooms
1 Leek
1 clove of Garlic
1tbsp Olive Oil
½ tsp Salt
½ tsp Pepper
1 tsp Fresh Thyme Leaves
500ml Vegetable Stock
30g Specially Selected Parmigiano Reggiano (grated)
75ml Cowbelle Single Cream
500ml Vegetable Stock
Method
1. Heat the olive oil in a pan and add the garlic, leek, salt and pepper and cook for 5-10 minutes until the leek has softened.
2. Slice the mushrooms and add to the pan, with the thyme, then pan fry for 10 minutes until the mushrooms have cooked.
3. Add the stock and the cream and bring to a simmer then add the grated Parmesan.
4. Blitz the soup with a hand blender and serves hot with a drizzle of olive oil and black pepper.