Sweet and spiced Christmas cocktail with vodka liqueur, apple juice and ginger beer.
Naughty or Spice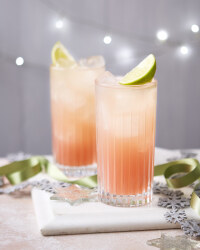 Recipe Information
Ingredients
50ml Pear, Cranberry & Cinnamon Vodka Liqueur
50ml Apple Juice
Splash of Ginger Beer
1 Lime
Nutmeg - grated for garnish
Method
Cut one wedge from the lime and juice the rest.
Shake the Vodka liqueur, apple juice and the lime juice.
Fill a tall glass with cubed ice and add the shaken ingredients. Top with ginger beer.
Garnish with the fresh wedge of lime and grated nutmeg.