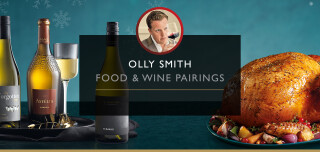 Your festive feast will taste extra special when you pair it with a wine that mirrors its flavours. Whether it's turkey, beef, duck or goose, we have brilliant bottles to complement your complete Christmas menu, from starters through to the grand finale.
Turkey
Raise a toast to the traditional roast turkey with luscious full-bodied Chardonnays, smooth, velvety Riojas or light, subtle Pinot Noirs.
Fish and Seafood
Crisp, zesty whites are perfect with smoked salmon and fresh seafood such as prawns, lobster and scallops.

"Always match your wine to the strongest flavour in the dish."
Beef and Roast Meats
Roast beef or lamb with all the trimmings calls for a wine with hearty texture and robust flavours.
Duck and Goose
Complement rich, succulent duck and roast goose with bold, fruity reds that really pack a punch.

"Make sure your wine is sweeter than your dessert."

Olly on... Dessert Wine
"As deep and delicious as diving into a galaxy of sultanas and raisins, De Bortoli Muscat Pudding wine is superb with sponge pudding or good old Christmas pud itself. You could also pair it with Christmas Cake, mince pies, and explore the whole range of Aldi's dessert wines. Botrytis Semillon is amazing with Stilton, Tokaji Aszu is my pick with fruit puds such as apple pie, Sauternes from Château de Myrat is hard to beat all round and the Recioto della Valpolicella is a rare treat to sip in front of a Bond film with your box of chocolates."

Olly on... Port and Cheese
"Port is the emblematic drink of Christmas! Generously fruity with deliciously deep warming spice, it's a total winner with a cheese board, especially Stilton. Try it with dark chocolate too – and add a jot to your mulled wine too, boosts flavour, sweetness and colour all at once. Delicious!"
Introducing our chocolate and wine pairing collection
If you love a glass of wine with your chocolate, our Exquisite Chocolate Wine Pairing range is just for you.

These three special bars of chocolate have been created exclusively to pair with our Exquisite Collection wines, Rioja, Malbec and Riesling, each containing its own blend of fruit and spices to match the wine's flavours.