Open Tuna Niçoise Sandwich
Open Tuna Niçoise Sandwich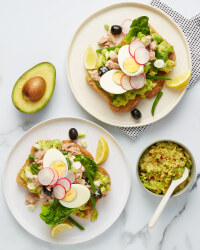 Recipe Information
Ingredients
160g Can Ocean Rise Tuna Chunks in Brine
2 Eggs
25g Solesta Black Pitted Olives
50g Green Beans
1 Spring Onion (finely chopped)
40g Bramwells Mayonnaise
4 Baby Gem Lettuce Leaves
½ Lemon (juiced)
½ tsp Salt
½ tsp Pepper
2 Slices of Malted Bloomer
1 Ripe Avocado
4 Radishes (sliced)
Method
1. Place the 2 eggs in boiling water and boil for 5 minutes, then leave to cool.
2. Blanch the green beans in boiling water for a couple of minutes, then cut each into 4 or 5 pieces.
3. Mix the tuna with the mayonnaise, olives, green beans, spring onion, lemon juice, salt and pepper.
4. Toast the 2 slices of malted bloomer.
5. Mash the avocado and spread over the toast.
6. Top with baby gem lettuce leaves and spoon in the tuna filling.
7. Peel the eggs from the shells and slice lengthways then place on the sandwich.
8. Serve with the sliced radish over the top.