Oriental Duck Salad with a ginger, garlic and honey dressing.
Oriental Duck Salad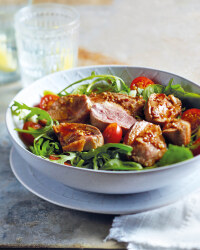 Recipe Information
Ingredients
2 Specially Selected Duck Breasts, skin on
60g Rocket
80g Watercress
250g Cherry Tomatoes
1 bunch Spring Onions
Dressing:
1 Garlic Clove, grated
1 tsp Root Ginger, freshly grated
2 tbsp Soy Sauce
3 tbsp Honey
Method
Pre-heat the oven to 200°C/400°F/Gas Mark 6.
Score the skin of the duck breasts and season.
Heat a non-stick frying pan over a high heat, add the duck, skin-side down, and cook for 4 minutes or until the skin is crisp.
Turn over and quickly brown the underside, then transfer to a baking tray.
Mix the dressing ingredients together and spoon all but 2 tablespoons of it over the duck.
Roast the duck for 10 minutes until pink. Cook for longer if you prefer.
Remove from the oven and allow to rest for 4 minutes, then slice into strips.
Toss together the salad leaves, tomatoes, spring onions and duck slices.
Drizzle over the remaining dressing and serve.