Japanese rice bowl dish with chicken, egg, spring onion and soy sauce.
Oyakodon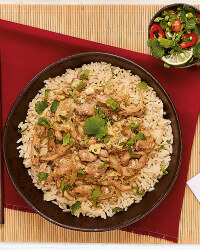 Recipe Information
Ingredients
240g Chicken Thigh Fillets, sliced thinly
100g Onion, sliced thinly
2 Spring Onions, wiped, trimmed and sliced thinly
3 Large Eggs
1 Chicken Stock Pot
125ml Boiling Water
25ml Soy Sauce
50ml Pale Cream Sherry
1 tsp Chinese 5 Spice
300g pack Steamed Long Grain Rice
4g Fresh Coriander
Method
Place the stock pot in a bowl of boiling water.
Add the soy sauce, 5 spice and the sherry.
Put the chicken and onions in a wok, pour over the sauce and bring to the boil.
Cover and simmer for 5 minutes.
Whisk the eggs in a bowl and pour over the chicken. Gently cook, uncovered, for a few minutes, until just cooked.
In the meantime, cook the rice as per instructions on the pack for 2 minutes. Divide the rice between 2 bowls, add the chicken and egg mix, then top with the coriander and serve.