This deliciously fruity Frozen Yoghurt dessert isn't just for summer - enjoy as a dessert whenever you fancy.
Mango & Mint Frozen Yoghurt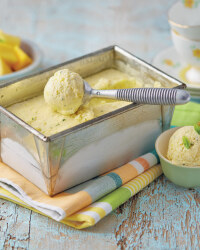 Recipe Information
Ingredients
2 x 400g packs Ready to Eat Fresh Mango Chunks
500g Greek Style Yogurt
10g Fresh Mint
Find your ingredients online on Click & Collect or find your nearest store using our Store Finder.
Method
Chop the mint.
Put all the ingredients into a food processor and blend until smooth.
Pour the purée into a freezer-proof bowl.
Freeze for about 80 minutes until semi-hard and serve.
If it's been in the freezer a long time, allow it to thaw for 15 minutes before serving.