A range of roasted vegetables with a tangy guacamole sauce.
BBQ Vegan Kebabs with Tangy Guacamole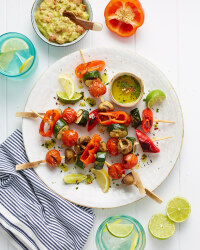 Recipe Information
Ingredients
Vegan Kebabs:
8 Cherry Tomatoes
1 Large Courgette (cut into 8 chunks)
1 Red Pointed Pepper (cored and seeds removed and cut into 8)
8 Cherry Tomatoes
8 Button Mushrooms
1 tbsp Olive Oil
½ Red Chilli (sliced)
½ Lemon (juice and zest)
4 long or 8 short kebab sticks
Tangy Guacamole:
2 Ripe Avocados
½ Red Onion (diced)
1 Salad Tomato (chopped)
1 Lime (juiced)
1 tsp Stonemill Crushed Chilli Flakes
Salt and Pepper
Pitta breads to serve
Method
1. Place 2 of each vegetable on a large kebab stick or 1 of each on a small stick.
2. Mix the oil, chilli, lemon juice and zest together and brush over the kebabs.
3. Heat to griddle or BBQ and then cook the kebabs for 5 minutes on each side until the vegetables are charred and softened.
4. While the kebabs cook, make the tangy guacamole by mashing the avocados until smooth and then mixing in the onion, lime juice and chilli flakes.
5. Season with a little salt and pepper and serve with griddled pitta bread.