Simply yummy! These delicious chocolate fruit treats are easy enough for kids to make and delicious enough for everyone to enjoy.
Banana Truffles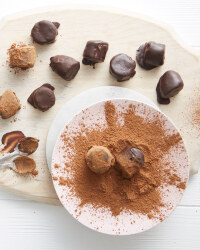 Recipe Information
Ingredients
3 Ripe Bananas
1 x 125g pack of 70% Cocoa Dark Chocolate
Juice of ½ Lemon
1 heaped tsp Cacao Powder
1 baking sheet lined with some non-stick baking parchment
Method
Peel the bananas, trim the ends and cut each banana into 8 slices. Put them in a bowl and gently coat in the lemon juice. Arrange them on the baking tray and put into the freezer to freeze for 15 minutes.
Break up the chocolate in a heatproof glass bowl. Put the bowl over a pan of simmering water, making sure the bottom of the bowl doesn't touch the water. Allow the chocolate to melt, stirring gently as it does. When melted, take the pan off the heat. Keep the bowl on top of the hot water to keep the chocolate warm.
Dip the frozen banana slices in the chocolate to coat them all over with chocolate. Put them back on the baking sheet and freeze again for 10 minutes. Sprinkle over the cocoa just before serving.
These keep in the fridge for a few days, or serve them frozen straight from the freezer.