Bananas, chocolate buttons and ice-cream. What could be more scrumptious?
Barbecue Chocolate Banana Split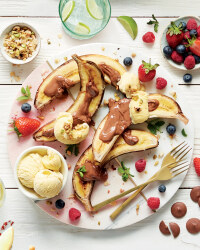 Recipe Information
Ingredients
6 Bananas
120g Dairyfine Giant Milk Chocolate Buttons
To serve
Vanilla Ice Cream
Berries of your choice
Method
Leave the bananas unpeeled and cut a slit down the centre of each banana from top to tip.
Place 5-6 chocolate buttons into the slit of each banana.
Wrap the bananas in foil.
Place the bananas, cut side up, directly onto the barbecue charcoal.
Allow to cook for 25-30 minutes. Carefully remove from the barbecue and allow to cool.
Remove from the foil.
Serve the bananas in their skins with a scoop of vanilla ice cream on the side.
To brighten up your Banana Split, garnish with your favourite berries.