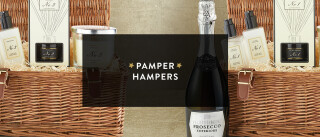 Pamper hampers filled with amazing beauty essentials
Treat yourself to one of our amazing pamper hampers this Christmas and find the time to relax with heavenly scented candles, lotions and diffusers from our famous No 1 and No 3 ranges. And because no pamper session would be complete without some fizz, we've included a sparkling bottle of Prosecco in the collections too.
No 1 Lime, Basil and Mandarin Pamper Hamper
Relax this Christmas with our lime, basil and mandarin scented pamper hamper. Along with a fine bottle of fizz, each collection comes with a stylish glass candle, room diffuser, lotion and hand & body wash.
No 3 Pomegranate Pamper Hamper
A luxurious collection of pomegranate scented products, including a glass candle, room diffuser, lotion and hand & body wash. All this and a bottle of Prosecco too – just what you need to pamper yourself this Christmas.
Amazing Christmas food & drink
For more amazing ways to treat yourself this festive season, take a look at our award-winning Christmas food and alcohol selections. Explore more today and take note of the on sale dates coming up soon.