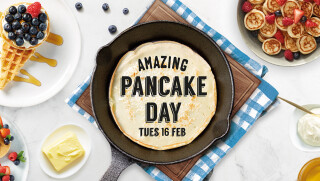 Flippin' fantastic! It's Pancake Day.
How do you like yours? Pancake Tuesday is here so it's decision time. Do you like yours plump and fluffy, traditional and thin, sweet and easy or super savoury? Get ready to inspire your taste buds.
Top toppings for your pancakes
Mmmm. Now what will you decide to put on top of your pancakes this Shrove Tuesday? Maybe a classic lemon and sugar with a squeeze of maple syrup? Or how about some caramel spread and ice cream? Here's a few of our favourites.
Join the pancake pros in the Taste Kitchen
Watch how the experts prep their pancakes with our quick Taste Kitchen hints and tips. They'll show you how to experiment with flavours and impress your family with your new flipping skills. Take a look.
Find the perfect pancake recipe
Incredible pancakes couldn't be simpler at Aldi. Try one of our favourite Shrove Tuesday recipes. Like these wow-factor Japanese Soufflé Pancakes – perfect for dessert. Or our delicious Coffee Yogurt Pancakes to kick-start the day.