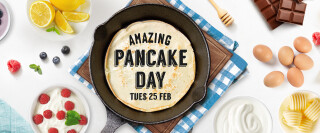 Have a proper Pancake Day with Aldi
With fresh ingredients, fun recipes and a fantastic range of utensils, gadgets and expert guides, we're going big on Pancake Day this year. Explore all the exciting ideas below and get yourself ready to flip out with your family when 25 February comes around.
Join the pancake pros in the Taste Kitchen
Watch how the experts prep their pancakes with our quick Taste Kitchen hints and tips. They'll show you how to experiment with flavours and impress your family with your new flipping skills. Take a look.
Flip through our pancake cookbook
We've perfected every kind of pancake there is. But it's still fun to try new things. Try these delicious pancake recipes with your family and don't be afraid to add your own twists.