This delightful tapas recipe is brilliant for parties and gatherings.
Parma Sweetcorn Tapas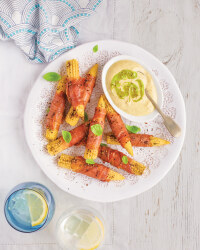 Recipe Information
Ingredients
1 pack Baby Sweetcorn
88g pack Parma Ham
40g Genovese Specially Selected Pesto
40g Bramwells Mayonnaise
40g Brooklea Greek Style Yogurt
Black Pepper and Sea Salt
30ml Specially Selected Olive Oil
Method
Pre-heat the oven to 200°C/400°F/Gas Mark 6.
Cook the sweetcorn in some boiling salted water for 5 minutes, then drain and allow to cool slightly.
Cut the Parma ham in half and wrap each baby corn in the Parma ham.
Place onto a baking sheet and drizzle over the olive oil, then sprinkle with some black pepper.
Bake in the oven for 10 minutes.
Meanwhile, mix the pesto, yogurt and mayonnaise together.
Serve the corn alongside the pesto dip.