A warming, spiced stew perfect for the Autumn and Winter nights.
Parsi Style Lamb & Apricot Stew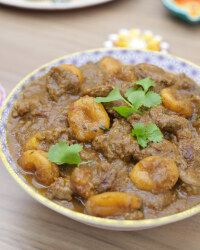 Recipe Information
Ingredients
Spices:
Half tsp ground black pepper
1 tsp chilli powder
Half tsp cinnamon powder
1.5 tsp cumin powder
1 tsp chilli powder
1 tsp salt
Meat curry:
750gm Boneless Lamb Shoulder Joint or Lamb Shanks
2 medium tomatoes
2 medium onions
4 fat garlic cloves
1 inch ginger
3 tbsp sunflower oil
Hot water
20 soft apricots
1 tsp sugar
1 tsp vinegar
Chopped fresh coriander
Method
First measure out and place all your spices in a little bowl.
Next, trim any excess fat off the joint and dice it into large bite-sized chunks.
Roughly chop the tomatoes and onions and finely mince or grate the ginger and garlic.
Now bring the oil to heat on high in a non-stick casserole pan.
When it's hot, toss in your onions and cook for five minutes, stirring from time to time, until pale golden.
Then mix in the ginger and garlic and keep going for another five minutes until the whole lot turns darker.
Add the lamb chunks and brown for five minutes.
Then sprinkle over the spice powders and cook for another five minutes until the meat is well sealed and brown all over.
Now add in the tomato pieces.
Stir through well for a couple of minutes, add a cup of hot water, mix through well, cover and cook on a medium heat for an hour.
Lift the lid from time to time to give the meat a good stir, and add half a cup of water if the curry starts getting stuck to the bottom of the pan.
After an hour, lower the heat to a high simmer, and stir through the apricots, sugar and vinegar to finish.
Sprinkle with the chopped fresh coriander and serve hot with skinny fries and steamed basmati rice.