Fresh, zesty and inevitably healthy, this pangrattato goes great with your favourite curry.
Parsley & Lemon Pangrattato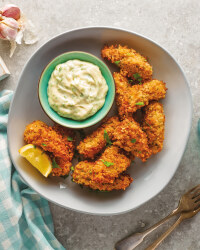 Recipe Information
Ingredients
15g Fresh Parsley
20g Cashew Nuts
3g Fresh Thyme
Grated Rind of 1 Lemon
2 Sunnyhills Ciabatta Rolls
2 Garlic Cloves
12g Grated Parmesan
Method
Pre-heat the oven to 200°C/400°F/Gas Mark 6.
Bake the ciabatta rolls for 12 minutes.
Once cooked, chop the bread into chunks and allow to cool.
Peel the garlic and chop roughly.
Roughly chop the nuts.
Put all the ingredients into a food processor and process until finely chopped.
Great served with roast chicken and pork.
Or why not make some delicious chicken goujons? Simply dip strips of chicken breast into beaten egg and then into the prepared crumbs. Shallow fry in olive oil for around 5 - 7 minutes, turning occasionally.