Party Canapes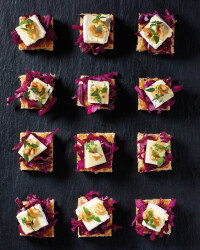 Recipe Information
Ingredients
5 slices Specially Selected Multigrain Bread
125g selection of Cheeses, such Mature Cheddar, Stilton and Camembert
25g The Pantry Walnut Pieces
Sprigs of Fresh Thyme, to garnish
For the Pickle
1/4 Red Cabbage
Juice of 1 Lime
2cm piece Fresh Ginger, peeled and finely grated
1 tbsp Light Soft Brown Sugar
Method
If possible, prepare the Pickle 24 hours in advance in order to give the flavours time to develop. If not, try to leave for 3-4 hours. Any unused Pickle can be stored in the refrigerator and served with cold cuts.
Cut out the tough core from the centre of the red cabbage, then halve lengthways. Use a sharp knife to very finely shred the cabbage and place in a mixing bowl. Add the lime juice and ginger and sprinkle over the sugar. Stir well and set aside. Leave to pickle for at least 3-4 hours until the sugar has dissolved and the cabbage is softened and has become a rich purple colour.
To prepare the canapés, toast the bread then allow to cool. Use either a 4cm pastry cutter to cut 4 rounds from each slice or, alternatively, remove the crusts and cut each slice into 4 squares. Drain the liquid from the red cabbage and place a teaspoonful onto each toast. Top with a small wedge of cheese and walnut pieces. Garnish each with a small sprig of fresh thyme.