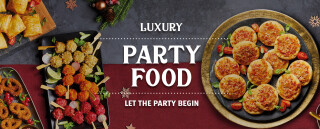 Let the party begin!
Nobody does festive party planning better than Aldi. Our ranges include award-winning buffet favourites, world-class wines and Specially Selected wonders that every guest will love. Find all you need for Christmas and New Year in one amazing place. Check out the full collection here and start getting excited!
Add a personal touch to the party
Once you've planned the perfect party spread with amazing food, try bringing some extra special touches to the table. We'll show you how to make homemade gifts and more with exciting ideas and inspiration.

Add a little extra touch to your buffet with some delicious homemade roasts. They're great for slicing and serving with all your other tasty bites.
This season's cookbook
Make room for these delicious homemade appetisers and light bites. They may be small but they are loaded with enough fantastic flavours to make every festive gathering better. Try the recipes yourself this week.
Festive party cocktails
Shake things up at your get-together with one of our fun festive cocktails. Take your pick from the recipes and impress every guest with new flavours and modern classics.

More party ideas
Keep the party planning going with ideas and inspiration from across our entire range. Find food, wines and lots more.