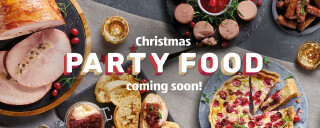 The party hasn't started yet!
You're here too soon! The venue isn't ready, the catering isn't sorted, we haven't even sent the invites! You'll have to put your party outfit away and come back when it's nearer to December 2021. Then we'll have a party like never before!
Bring on the buffet
We know it's not Christmas just yet but why not get some practice in with these tasty easy to cook dishes.
It's only Christmas once a year
It may only come around once a year, but the party never stops! Why not try out these delicious canapé recipes to be a 5 star host no matter the occasion.
Drinks to get you in the party mood
We've got the most amazing selection of cocktail recipes that will knock your socks off and get you dancing. Cocktails aren't just for Christmas, so why not try one out!