Light and creamy cheese tart made with goat's cheese, crème fraiche, mint and peas.
Pea, Mint & Goat's Cheese Tart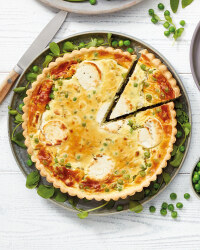 Recipe Information
Ingredients
180g Defrosted Frozen/Chilled, Freshly Cooked Peas
375g pack Ready Rolled Shortcrust Pastry
4 Spring Onions, washed, trimmed and thinly sliced
4g Fresh Mint, finely chopped
250ml Crème Fraîche
3 Medium Eggs
150g French Garlic & Herb Goat's Cheese Log
Black Pepper
20cm Loose Bottom Quiche Tin
Method
Pre-heat the oven to 180°C/Gas Mark 4.
Line the quiche tin with the pastry.
Line with some tin foil and bake blind for 5 minutes. Carefully remove the foil and bake for another 5 minutes.
Slice a few thin rounds of the goat's cheese and put to one side.
Place the peas, spring onions, mint, crème fraîche, remaining goat's cheese and eggs in a bowl and mix together.
Season with some black pepper and mix well.
Pour the mixture into the pastry case, top with the slices of cheese and bake in the oven for 25 minutes until just set and slightly browned.