Golden brown peanut butter cake with tasty strawberry jam.
Peanut Butter & Strawberry Jam Cake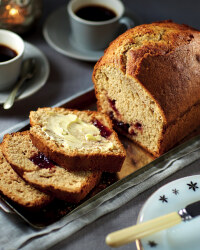 Recipe Information
Ingredients
25g Grandessa Crunchy Peanut Butter
140g Specially Selected Strawberry and Champagne Jam
240g The Pantry Plain Flour
½ tsp The Pantry Baking Powder
¼ tsp The Pantry Bicarbonate Soda
1 x tsp Salt
50g Butter
3 x Large Eggs
170g Caster Sugar
60g Dark Brown Sugar
100ml Milk
1 x tsp Vanilla Extract
Find your ingredients online on Click & Collect or find your nearest store using our Store Finder.
Method
Pre-heat the oven to 180°C/350°F/Gas Mark 4.
Line the base and sides of the tin with the baking paper.
Sift the flour, baking powder, soda and salt into a bowl.
Put the peanut butter, butter and sugars into a food processor – pulse for about 5 minutes until blended.
Add the eggs one at a time, blending as you do.
Add half the flour and continue to blend.
Then add the milk and the vanilla essence and pulse again.
Add the rest of the flour – blend again until well mixed.
Pour half the mixture into the tin and then put the jam on top in dollops and cover with the rest of the cake mix.
Bake in the oven for 60-65 minutes, until a skewer stuck in the middle comes out clean.
Cool in the tin for 15 minutes, then transfer to a wire rack to cool.