These tasty savoury muffins are a delightful addition to any party menu.
Pepper, Sweetcorn & Cheese Muffins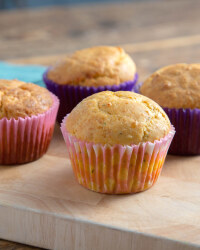 Recipe Information
Ingredients
80g Chopped pepper – green, red or yellow
80g Drained Sweet Harvest Sweetcorn
120g Grated Mature Cheddar Cheese
140g Greenvale Salted Butter
280g The Pantry Self-Raising Flour
3 Medium Eggs
150ml Milk
1 tsp Dijon Mustard
1 tsp Stonemills Dried Parsley
½ tsp Stonemills Paprika
Sea Salt and Black Pepper
12 The Pantry Cupcake Cases
1 x 12 Hole Muffin Tray
Method
Preheat the oven to 190°C/375°F/Gas Mark 5.
Put the cases in the muffin tray.
Melt the butter.
Whisk the eggs with the milk, Dijon mustard, paprika and parsley.
Put all the ingredients into a food blender and process till you have a thick batter.
Divide the mixture between the 12 cases.
Bake in the oven for about 25 minutes until risen and golden on the top.
Delicious warm or cold.