Simple yet delicious blend of vegetables and spices on toasted bread. Great for lunch.
Pepper and Onion Melts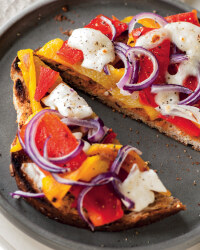 Recipe Information
Ingredients
2 Peppers, any colour, halved and sliced
1 small Red Onion, cut into thin wedges
2 tsp Olive Oil
4 slices Wholemeal Bread
125g Light Mozzarella Cheese, sliced
1 pinch Ground Black Pepper
1 handful Mixed Salad Leaves
Method
Pre-heat the grill.
Arrange the peppers on a baking sheet with the red onion.
Sprinkle with the olive oil, then grill until soft and lightly browned – about 6-8 minutes.
Toast the slices of bread and share the pepper mixture between them.
Arrange the mozzarella cheese on top, then return to the grill for 1-2 minutes, until the cheese begins to melt.
Serve with mixed salad leaves.