Homemade tomato-base pizza recipe topped with pepperoni, peppers and sweetcorn.
Pepperoni and Sweetcorn Pizza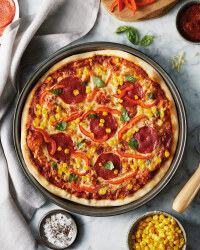 Recipe Information
Ingredients
550g Plain Flour
30g Baking Powder
60g Tomato Purée
20g Pesto
150g Grated Mozzarella Cheese
170g tin Sweetcorn, drained
60g Mild Pepperoni
1 Red Pepper, thinly sliced
5g Fresh Basil Leaves
50ml Olive Oil
Salt and Black Pepper
Method
Pre-heat the oven to 220°C/Gas Mark 7.
Mix the flour and baking powder together in a large bowl.
Add 270ml warm water, a large pinch of salt and the olive oil and mix well.
Turn out onto a lightly-floured surface and knead for 2 minutes.
Divide the mixture into 4 balls and roll out to create 30cm pizza bases.
Mix the tomato purée with the pesto and 50ml warm water.
Spread this over the 4 bases and sprinkle over the cheese.
Divide the pepperoni, peppers and sweetcorn over the bases.
Bake in the oven on separate trays for 20 minutes.
Serve, topped with the torn basil leaves and some black pepper.