Chicken roast brushed with homemade peri-peri, served with rice and seasoned vegetables.
Peri-Peri Roast Chicken with Mediterranean Roasted Vegetables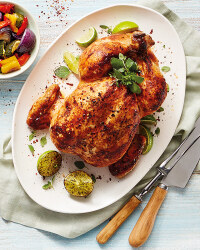 Recipe Information
Ingredients
1 x Extra Large Chicken (around 2kg)
2 tbsp Peri-Peri Seasoning
1 tsp Paprika
Juice ½ Lemon
3 tbsp Olive Oil
½ tsp Salt and Pepper
2 x Red Peppers
1 x Yellow Pepper
1 x Green Pepper
2 x large Courgettes
3 x Red Onions
2 x Garlic Cloves, crushed
2 tsp Paprika
1 tsp Dried Oregano
Method
Mix together the peri-peri seasoning with the paprika, lemon juice, olive oil, salt and pepper.
Brush over the chicken and leave to marinate for a minimum of 2 hours.
Pre-heat the oven to 200°C/Gas Mark 6.
Cover the chicken with foil and place into the oven to roast for 45 minutes per kg plus 20 minutes (1 hour 50 minutes for a 2kg chicken).
While the chicken is in the oven, prepare the vegetables by cutting them into 1-inch chunks.
Season the vegetables with the garlic, salt, pepper, oregano and paprika.
Place the vegetables onto a baking tray (you may need 2 trays).
For the remaining 45 minutes of the chicken cooking time, remove the tin foil from the chicken and place the vegetables in the oven to roast.
Serve the peri-peri chicken with the roasted vegetables.