Pesto Mascarpone and Tomato Scones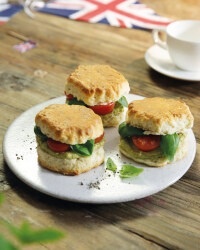 Recipe Information
Ingredients
1 x Pack The Village Bakery All Butter Scones
3 tbsp The Cheese Emporium Mascarpone
2 tbsp Specially Selected Pesto Genovese
100g Specially Selected Piccolo Tomatoes
6 Fresh Basil Leaves
Pinch of salt and pepper
Method
1. Mix together the mascarpone and pesto with a pinch of salt and pepper.
2. Halve the scones and spread a spoonful of the pesto mascarpone on each base.
3. Halve the tomatoes and place on top of the mascarpone (about 2 piccolo tomatoes per scone).
4. Top with a fresh basil leaf and serve.