Pineapple Pancakes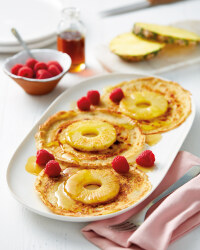 Recipe Information
Ingredients
60g Plain Flour
15g Caster Sugar
15g Butter, melted
1 Large Egg
200ml Milk
½ fresh Pineapple
150g pack fresh Raspberries
Maple Syrup
Sunflower Oil, to fry
Method
In a food processor add the flour, sugar, melted butter, milk and eggs and process to a smooth batter.
Remove the skin from the pineapple and cut into 8 slices.
Heat some oil in a small frying pan and place a pineapple round in the centre of the pan. Pour the batter around the slice, so that it is surrounded by and touching the batter, but not over it. Cook for a few minutes, then carefully flip over the pancake and cook the other side. Transfer to an oven to keep the pancakes warm while you cook the rest.
Serve sprinkled with the fresh raspberries and drizzled with maple syrup.