A fresh take on a fruit-packed cake
Pineapple Upside Down Cake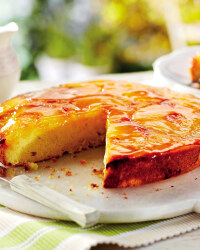 Recipe Information
Ingredients
1 x Fresh Pineapple
50g Greenvale British Unsalted Butter
20g The Pantry Granulated Sugar
185g Beautifully Butterly Spread
185g The Pantry Self Raising Flour
185g The Pantry Caster Sugar
3 x Merevale Large Eggs
80g Grandessa Apricot Jam
1 x 23cm spring form cake tin
Method
Line the base of the cake tin with non-stick baking parchment.
Peel and core the pineapple and cut into thick rounds.
Check to see how many slices you can fit in the base of the tin – this should be 5 or 6 depending on the sizes.
Add the butter and granulated sugar to a frying pan and fry the pineapple slices until browned.
Then place the pineapple slices in the bottom of the cake tin.
Mix the flour, caster sugar, baking spread (this will need to be replaced) and eggs together, then chop the remaining pineapple into small pieces and stir into the cake mix.
Heat oven to 180°c fan or 160°c gas4
Spoon the cake mix over the pineapple slices and bake for about 25 minutes – until the cake is firm to the touch.
Allow the cake to cool in the tin for 10 minutes before removing from the tin, and then turn the cake out of the tin upside down.
Warm the apricot jam until runny and then brush the jam over the top of the cake and the pineapple slices. Serve hot or cold.