Decadent summer dessert made with sweet pomegranate, fresh raspberries and double cream.
Pomegranate and Raspberry Pavlova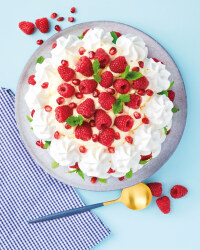 Recipe Information
Ingredients
For the meringue
6 British Blue Egg Whites
300g Caster Sugar
1 tsp Cornflour
1 tsp White Wine Vinegar
For the Pavlova
400g Raspberries
200g Pomegranate Seeds
600ml Double Cream
2 tbsp Icing Sugar
1 tbsp Vanilla Extract
Toppings
Fresh Mint
Method
Pre-heat the oven to 170oC fan/Gas Mark 5.
Place the egg whites and vinegar into a bowl and whisk at medium speed until they form soft peaks.
Combine the caster sugar with the cornflour then gradually add to the egg whites, one spoonful at a time, whilst whisking, until fully incorporated.
When the mixture is white, glossy, smooth and holding a stiff peak, it's ready.
Either pipe or spoon the meringue between 3 trays using 20cm circles as a guide.
Place in the oven, then immediately lower the temperature to 100oC Fan/Gas Mark ½.
Bake for 90 minutes, then turn the oven off but leave the meringues inside with the door slightly open until cooled.
When ready to serve, whip the cream with the sugar and vanilla extract until it forms soft peaks.
Layer the whipped cream, along with the raspberries and pomegranate seeds, between the layers of meringue.
Top the final layer with whipped cream, raspberries, pomegranate seeds and mint leaves, then serve immediately.