A fruity variation on a classic Wellington
Pork & California Prune Wellington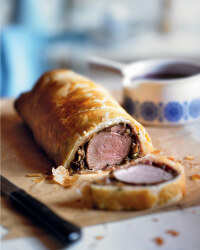 Recipe Information
Ingredients
Pork Fillet 300g-400g
15 California prunes
1 clove of garlic
1 Red onion
1 grated green apple
Handful of chopped parsley and sage
Seasoning
2 tbsp olive oil
1 pack ready made puff pastry
4-6 slices of prosciutto
1 tbsp chopped hazelnuts
1 beaten egg
125ml red wine
100ml vegetable or chicken stock
Method
Pre-heat the oven to 200˚c
Make the prune puree by putting the prunes in a food processor and mixing to a paste. In a bowl mix this with the chopped hazelnuts, herbs and grated apple. Fry the onion and garlic in 1 tbsp of the olive oil until soft but not coloured and add this to the mixture and allow to cool.
Fry the pork fillet in the remaining olive oil until browned on all sides – allow this to cool completely.
Roll out the puff pastry to a rectangle and cutting the prosciutto slices in half line the inside of the pastry – leaving a 1cm border around all edges.
Spread the California prune puree mixture over the prosciutto then place the rested pork fillet on top. Brush the edges with the egg and wrap the pastry around the pork – completely sealing all the edges. Place on a baking tray and brush with the remaining egg.
Place in the pre-heated oven for 10 minutes – then reduce the temp to 170˚c and cook for a further 15 minutes.
Remove from the oven and allow to rest for 10-12 minutes.
Make a sauce with the leftover pan juices – add the red wine and stock, season and reduce until a thick glossy consistency.
Serve slices of the pork wellington with baby new potatoes and a mixture of green vegetables (fine green beans, mangetout and petit pois)