A perfect pork fillet Porchetta recipe for weeknight family meals and Sunday dinners.
Pork Fillet Porchetta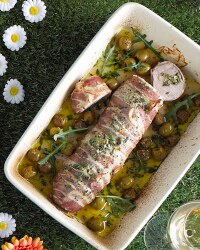 Recipe Information
Ingredients
1 Pork Fillet
100g Fennel
2 Cloves Garlic
1 Lemon
5g Fresh Rosemary
5g Fresh Parsley
80g pack Specially Selected Pancetta Slices
50g Green Olives
150ml White Wine Sea
Salt and Black Pepper
Method
Pre-heat the oven to 200oC/400oF/Gas Mark 6. Finely chop the fennel. Peel and mince the garlic. Grate the rind of the lemon. Finely chop the rosemary and parsley.
Mix all the above together in a bowl and season with some salt and pepper. Make a slit down the top of the pork fillet and open up to make a pocket.
Put the fillet into a roasting dish. Stuff the fennel mix into the cut. Lay the slices of pancetta over the top of the filling and tuck the slices underneath the pork fillet.
Juice the lemon and mix with the white wine. Pour this around the pork fillet. Put the green olives around the fillet in the wine. Roast in the oven for 45 minutes.
Serve sliced with some of the juices and olives around the slices.