Juicy king prawns, chilli, lime and a sprinkling of paprika and coriander on garlic bread.
Prawn, Coconut & Chilli Bruschetta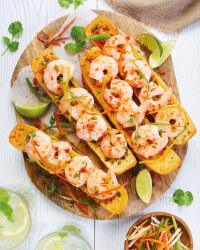 Recipe Information
Ingredients
1 x 180g pack Specially Selected Raw Jumbo King Prawns
1 x 4 pack Specially Selected Garlic & Parsley Ciabatta
25g Solid Coconut Oil
1 Small Red Chilli
Juice of 1 Lime
½ tsp Smoked Paprika
5g Fresh Coriander, chopped
Method
Pre-heat the oven to 190°C/Gas Mark 5.
Defrost the prawns and pat dry.
Finely chop the red chilli, with the seeds.
Place the ciabatta on a baking tray and bake for 4 minutes.
Meanwhile, sauté the prawns in a frying pan in the coconut oil for 4 minutes.
Add the chopped chilli and lime juice and cook for another minute.
Top the ciabatta with the prawns and drizzle over the juices and chilli from the pan.
Scatter over the coriander and paprika and serve immediately.