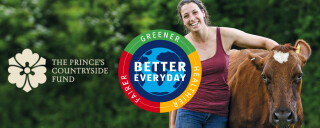 Aldi and The Prince's Countryside Fund – backing British farming together
Aldi are proud to partner with The Prince's Countryside Fund to provide vital support to farming communities over the next three years. We are supporting the Fund's flagship initiative, The Prince's Farm Resilience Programme, so that family livestock farms across the UK can be offered free business skills training and advice.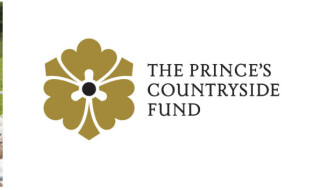 Aldi contributes a total of £150,000 to Countryside Fund Trading Ltd annually, which donates its available profits to The Prince's Countryside Fund; a registered charity in England and Wales (1136077) and Scotland (SC048055).
What is The Prince's Countryside Fund?
Established in 2010 by HRH The Prince of Wales, the Fund exists to improve the quality of life for people living and working in rural areas. Income is provided by corporate partners, licensing, events and donations made to the charity.
The Prince's Farm Resilience Programme
We donate £75,000 of our contribution to support upland beef and lamb family farms to improve their skills and knowledge of business management. This is delivered through a series of workshops hosted by expert consultants on effective day-to-day management of their business, with topics including record keeping, succession planning and understanding finance and accounts. Participating farms benefit from one-to-one on-farm advice on their specific situations and for implementing improvements.
Up to 300 farms join The Prince's Farm Resilience Programme every year. In the first year of the partnership, Aldi's donation supported up to 60 upland beef and sheep farms across three locations: The Brecon Beacons, Cairngorms and Lake District. We aim to bring disconnected and remotely-located farmers together to improve their confidence and ability to run long-term and sustainable businesses. It is the only scheme of its kind intended to help vulnerable family farms in the UK.
Britain's upland farms
The uplands are elevated areas of the English, Scottish and Welsh countryside. The land is more challenging to farm and is usually situated in fragile and remote locations. Upland farming is the driving factor for these local economies and so must be well-maintained and developed, which is something The Prince's Countryside Fund aims to achieve.
Meet our Farmers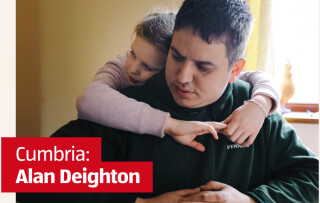 Alan joined the Prince's Farm Resilience Programme in 2018. He works full time as an agricultural engineer and farms with his girlfriend and their new baby. They farm 60 acres on a farm tenancy and have 20 suckler beef cows and 25 sheep. Alan aims to farm full time. Therefore, he is trying to prepare himself and his business for when a larger farm tenancy opportunity arises. "The Prince's Farm Resilience Programme has so far been very helpful, particularly the business planning elements, really looking at where your money is going."
Alan was surprised to see that everyone in his group was in the same boat financially. "Everyone's finances were pretty similar, bar one or two outliers. Being in the group setting means you can pick the brains of those who are doing better. The results of the benchmarking tool are anonymous, but people tend to open up and it's also good to compare how you're doing with those on similar systems. We're really hoping that the programme will help us to achieve our goals of farming full time and growing our business. We're learning all the time, future-proofing ourselves. With Brexit, this is a time of huge uncertainty, so we need to listen to others and take as much help as we can get."
Anwen manages 400 sheep on 140 acres near Llanarth, in South Wales, with her partner, Rhodri. They heard about The Prince's Farm Resilience Programme on Facebook and even though their group met in Brecon, a 3-hour round trip away, they were keen to attend. "We were really intrigued to learn more about our own business, particularly with Brexit around the corner. We've had some doubts about our sheep enterprise and whether we were spending too much money on it. The most important thing for us was making cost efficiencies and increasing our profit."
"The Business Health Check tool taught us not to be afraid of the changes required for our business. It reassured us that where we already wanted to make changes, was the right way to go. We've been considering getting some cows to help with our soil health." When asked about how the Programme helped them plan for the future, Anwen said that "Rather than dwelling on previous mistakes, it's helped us to learn from them and move on."