Prosecco Thyme is the perfect cocktail for a celebration, whether you're toasting the Queen's 90th birthday or just celebrating the first signs of spring. The cocktail is full of fresh seasonal flavours and zing.
Prosecco Thyme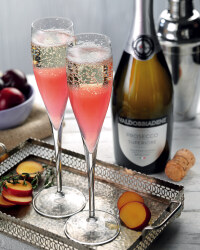 Recipe Information
Ingredients
1 bottle Valdobbiadene Prosecco Spumante DOCG
2 large ripe plums
½ cup of white sugar
½ cup hot water 4 springs of fresh thyme
25ml fresh lemon juice
Method
Cut the plums into quarters and discard the stones.
Muddle the plums in a cocktail shaker.
To make thyme syrup add dissolve the white sugar in the hot water.
Once dissolved add the thyme sprigs.
Allow the mix to cool, and then strain before storing in the fridge until needed.
Add 25ml of thyme syrup and ice to the cocktail shaker.
Add the remaining lemon juice and shake hard.
Strain into a rocks glass filled with cubed ice and top with Prosecco.